All About Scent Work Podcast
2018-07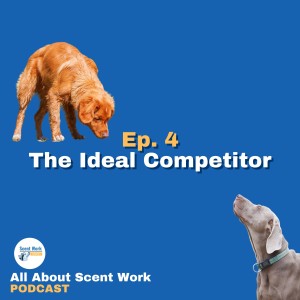 Tuesday Jul 24, 2018
Are you an official with a Scent Work competition organization or have you considered applying to be one? Do you realize just how crucial you really are to whether a trial is a success, or a complete and total failure?! Are you aware that competitors, trial hosts and organizations have lists of things they WISHED officials would do, and not do? In this episode, we will discuss all of that, to help YOU be the best official you can be...and not end up on the "do not hire" or "do not trial under" list.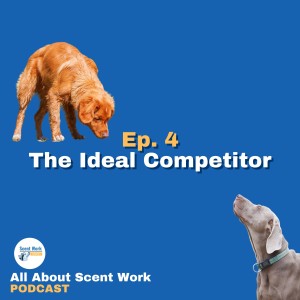 Friday Jul 20, 2018
Have you ever been to a Scent Work trial, and the atmosphere was just...wrong? Everyone seemed stressed and miserable, and a dark cloud hung over everyone and everything? There are plenty of reasons why this can happen, but you as a competitor can help prevent it! In this episode, we discuss what Scent Work trial officials dread, and in so doing, showcasing what they would deem the "ideal competitor", the competitor who refrains from doing some of the very things that can drag a trial down. Now, that is not to say all the blame or responsibility lies at the feet of the competitors. Nothing could be further from the truth! But, this is a topic not many competitors think about, or give enough credence to. You, as the competitor, are a crucial part of the puzzle to ensure your Scent Work trial goes well! So let's figure what you should do, and pitfalls to avoid.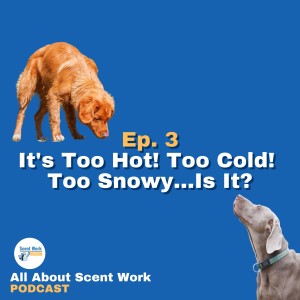 Wednesday Jul 11, 2018
Scent Work is one of the few dog sport activities that can be held in all types of weather. Regardless of the season or what Mother Nature throws at competitors, as long as it is safe, the trial will go on. Do you find yourself dreading a weather report for an upcoming trial? Thinking to yourself, "It will be too (enter weather condition)...we will never succeed!". Then you need to listen to this podcast, where we will discuss some tips on how you can help your dog overcome some of these stumbling blocks, and what you should keep in mind when you are implementing your training plan.